Hall of Honor
---
"Each man of the land comes and has his time. He lives and loves and laughs, and walks the land, and calls it his. After a time, one way or another, the man leaves. The land remains."
Dorothy Darling Wagner
from "The Man of the Land" 1978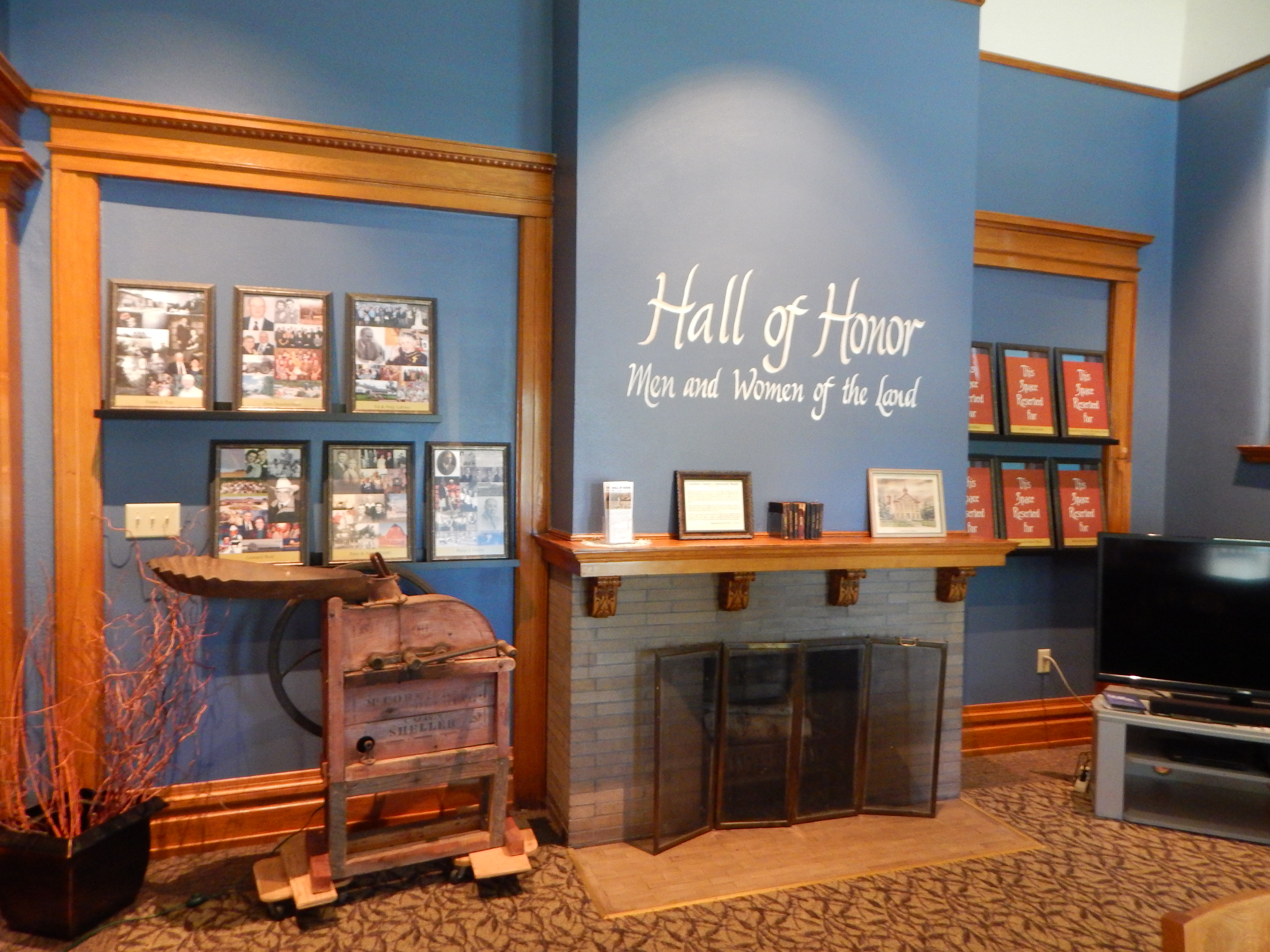 The Hall of Honor area is located in our board meeting/conference room.


It is fitting that it be named after men and women who have contributed and continue to contribute in some manner to what we collectively value as Stevens County history.
It may be someone who has gained worldwide fame or recognition.
It may be someone who has influenced youth through education and example.
It may be someone who contributes through their talents and skills.
It may be someone who quietly and humbly raises their family and practices good citizenship.
It may be someone who provides goods and services.
With a $5,000 donation, which can come from an individual, a group of people, or an organization, the heritage of the person of your choosing, past or present will become a part of our "Men and Women of the Land" Hall of Honor. Please give thoughtful consideration to donating and nominating someone to the Hall of Honor.

Together we will preserve their history.


Current Hall of Honor videos at the museum:
Charles & Carol Berg
Rodney Briggs
"Doc" John & Helen Busch
Loren Carr
Robert & Rebecca Darling
Carol Day
Ted & Phyllis Dosdall
Peter & Agnes Erdahl
Sivert & Ingeborg Erdahl
Anton & Rosetha Ettesvold
Lloyd & Diane Fehr
Paul Fehr, Sr.
Theodore Fenske
Frank J. Fox
Harley Hanke
Pearl & Walter Hanse
Walter "Slim" & Lily Hokanson
Philip Jordan
Charles C.B. & Margret Kloos
Ed & Patty LaFave
Gerald & Lois Loher
Chester & Lorraine Marty
Harvey Mathison
Charles & Marjorie Mesenbrink
Lola & DeWayne Michaelson
Oscar & Maria Mumm
Reverend Fred E. Pasche
Don Quackenbush
Doug & Louise Rasmusson
Charles & Jenny Sather
Andrew & Dorothea Satter
John Scharf
Steve "Skip" Sherstad
Bob & Harriet Stevenson
Donald Stroman
Alan Tonn
Richard & Dorothy Wagner
Maurice & Rosalys Weiler
Sid Wilcox
Leonard Wulf
Violet Wulf
Nominees to come:
Bob & Marian DeWall
Ersted Family
Friedrick & Louise Gausman
Thelma Gilbert
John "Jack" & Lucy Imholte
Willie Martin
Howard & Helen Olson
All videos are available to view at the museum during open hours.