Wadsworth Trail
---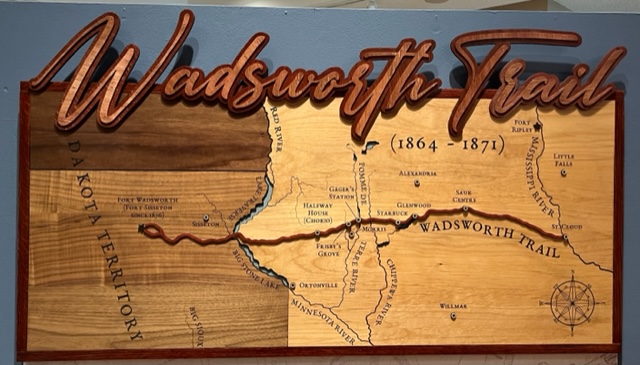 This 4-layer wood map was handmade for our exhibit, The Story of Stevens County, on display at the museum.
Buy a copy of the Wadsworth Trail book

The Wadsworth Trail was established in 1864 and played a vital role in the early settlement of Stevens County. First established as a way to transport supplies to the newly built Fort Wadsworth in the Dakota Territory, the Wadsworth Trail led settlers, traders, and gold seekers west.
Beginning in St. Cloud, the trail followed the already-existing Red River Trail to Sauk Center. From there it broke west and headed to present-day Glenwood and around the southern part of Lake Minnewaska. Once in Stevens County, the trail split in two. The southern part of the trail went through Hodges Township. Henry Gager built his first station in 1866 along the southern part of the trail in Darnen Township. But just a year later he moved his station to be nearer the northern route, in Section 12 of Morris Township, near Wintermute Lake.
Gager's Station was an important stop on the Wadsworth Trail. The station served as a gathering place to learn the latest news that was brought by travelers. It also had a trading post, post office, and blacksmith shop. Eventually it would have a store as well.
From the station, the trail headed west towards what is now Graceville and on to the Dakota Territory. By 1871, the trail had become largely obsolete. The St. Paul and Pacific Railroad Company had reached Stevens County and the City of Morris had been established. On top of that, the composition of the fort had changed. What was once been a four-company cavalry posting had become a two-company infantry post, causing a reduction in the amount of supplies needed. By 1889 the fort had been abandoned. Today, few natural markings of the trail are visible in the county.